So… I'm not one to invest time in fear. Most of us are working from home in the middle of lock-downs, distancing, and self-isolation. As I write this, I'm the only one in the warehouse today. It's an interesting exercise in economic hibernation. For the most part I pick out the silver linings because life is a piece of art, you're the artist, use your palette, and create it. Art is the counterpoint to the times. Bringing hope, shedding light on the flaws, excising traumas, or exalting the love and beauty. Artists are counselors for the heart.
Robert Bateman
The Bateman Foundation has a message on their website from Robert. https://batemanfoundation.org/  "Nature isn't closed." Bateman was already working on a nature and mindfulness program, #mynaturesketch, before this all occurred, but it's as relevant now as it was then. Getting people out in nature, making a sketch of what you see and sharing it on social media. The science is in on the healing and rejuvenating properties of nature. Growing up with Robert Bateman we've been told to get outside since the 80's. I may have dragged my heels a few times, but I can't admit a single regret whenever I did. I always felt better. It resets our perspectives, it reminds us of our connection with it all. It hugs us with its complexities and beauty, and welcomes us home. The Bateman Foundation's website is a great resource. They have a virtual tour of their "Castaways" exhibit. https://batemanfoundation.org/exhibits/castaways-art-from-the-material-world/
and some terrific homeschooling activities and lessons. https://batemanfoundation.org/digital-resources/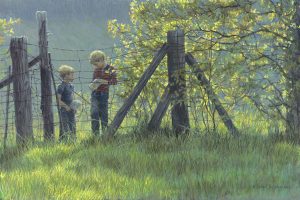 Robert Bateman's "Tadpole Time"
Dominik Modlinski
Dominik Modlinski has been hunkering down and devoting his energies to his work. His latest pieces "Top of the World" and "Avatar Blue" are stunning examples of hot and cool in juxtaposition of the seasons. The "hot" colours of fall in "Top of the World" and the cool colours of shaded forest in summer. There's a subtle evolution in Dominik's technique in form and shape with these pieces. A deeper exploration of finer details in the foreground, the way light plays on the angles and textures of the leaves, trees and moss. "Cathedrals of Ice" carries on this adventure with the glistening reflections in the ice field to the left of the subject mountain. A moody and introspective monolith.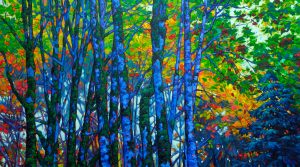 Dominik Modlinski's "Avatar Blue" – 47″x 87″ Oil on Canvas
Todd White
Todd White is active on Instagram. He caught the last wave into England just before things took off to make good on his U.K. tour, before Covid landed. Our hats off to him and the fun he had. His shows really feel like an event and a celebration. We're looking forward to future shows. In recent days he's posted informational videos on masks and gloves. He has some great tips and tricks for glove safety and the reuse procedures instead of throwing them away. https://www.instagram.com/p/B-sRdayJ2zG/ It's a great mask fashion show. He also has a master class on how to draw Sponge Bob for the kids. His littlest one helps, it's pretty adorable.
In closing, be safe, wash up, get out in nature when you can, and enjoy or make some art. We're doing this to help those who are at risk. We're doing this to lighten the burden of those who can't stay home, the helpers. We'll do our best to weather the storm and hope you'll do the same. Take care of yourself and your loved ones. Be kind, it's a great antidote to stress and fear. In the immortal words of Douglas Adams, Don't Panic. If you know the next right thing to do, do it calmly and with dignity. If you don't know what's next, practice mindfulness and be present. Look at some art.