April Renews with Midnight Black Wolf and the Return of Giclee on "Bord."
Todd White Flirts with Flowers and Sweets.
We are over the moon to bring you the news of Robert Bateman's reissues of "Golden Crowned Kinglet and Rhododendron" and "Midnight Black Wolf" on the all new 'Claybord' substrate. Claybord, the trademarked name, is masonite like substrate where the image is printed directly on it. The art glows. Printing technology has come such a long way.
The artist proofs of the "Golden Crowned Kinglet and Rhododendron" have already sold out. 15% of the proceeds for Bateman's Kinglet will go to the Bateman Centre to further his lifelong legacy of the conservation of our natural world. Here's Bateman in his own words: https://www.youtube.com/watch?v=5Nf1IaBrLDI
The Golden Crowned Kinglet and Rhododendron is sized at 12" X 16". The edition size of 99 for the regular edition and 19 artist proofs. The low edition numbers make this series highly collectible.
It's the 30th anniversary of the release of Midnight Black Wolf. Arguably, Robert Bateman's most iconic, if not hauntingly charismatic, works of art. Here's Bateman in his own words: https://www.youtube.com/watch?v=3YXzj-Whlp4. The claybord process is a match made in heaven for this piece. Bateman, himself, feels this reproduction is the closest we have come to the original.
At 33" x 44" this will be the largest Robert Bateman giclee reproduction on a solid substrate ever produced. 290 standard edition and 49 artist proofs will round out the entire edition run. We are beyond excited for you to see the Midnight Black Wolf for yourself. It's truly ground breaking.
In other Bateman reproduction news, "Alaska Light" giclee canvas is available again. The original printers in the United States were able to find their print file and we're able to continue issuing the remaining numbers in the edition. A mother grizzly and cub are perfect for Mother's day.
Todd White, one of the hardest working artists out there today, has created a few special pieces to bring with him on his upcoming tour of the U.K. We've been lucky to get our hands on a small number of this collection.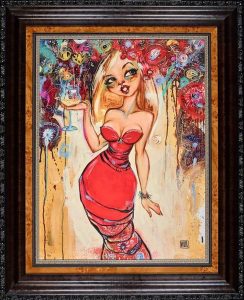 "Take Me With You When You Go" Is a floral explosion around the red dress subject. 29" X 22" with an edition of 100.
"Sweet Dreams" A sweet tooth's dream come true. The edition will be 135, size to be determined.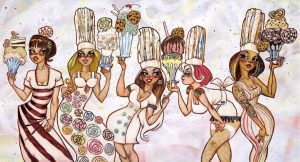 Todd White is always active on Instagram and treats us to sneak peaks on current projects, his process, and exciting glimpses from his shows. https://www.instagram.com/artofwhite/
Follow us on Instagram too. We're always posting classics and the fresh work coming through the door. https://www.instagram.com/naturessceneart/